Ok, this dish is not exactly "low-carb" But I planned my day accordingly to fit it in. It just sounded so good. And it did not disappoint!
I am always looking for new ways to serve my family some vegetables. I try to sneak them in wherever I can. It actually has become a game for me. Except my family has caught on now, so they ask about the food first. I am a horrible liar so it is getting more difficult to "hide" the veggies in the dish. It used to be simple. Oh that green stuff is parsley. It was actually spinach finely chopped. I have made Alfredo sauce using cauliflower. Recently I made cauliflower tots. They looked like tater tots but were made with cauliflower and cheese.
Last nights dinner, there was no hiding the veggies. But cooking them with a little honey did make them go down a little easier.
This is not an original recipe of my creation. I take no credit in its creation. I enjoyed it so I thought I would share with you. I found it online. I think it was on facebook . Original source is from I wash you dry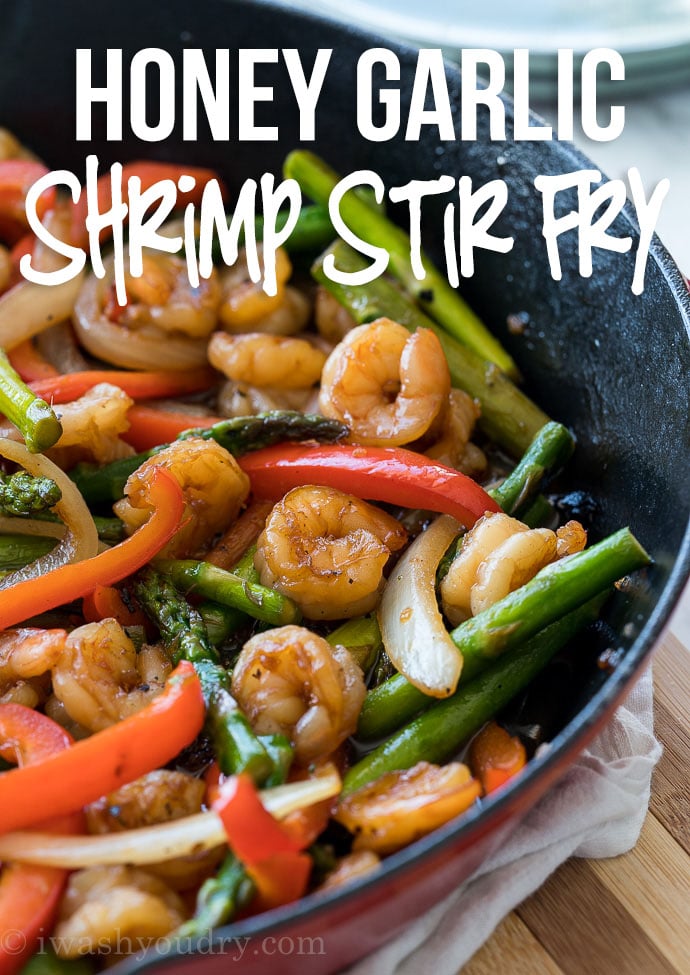 1 lb. raw shrimp, thawed, peeled and tails removed
1/3 cup honey
1/4 cup soy sauce
1 tbsp minced garlic
1 tsp minced ginger
2 tbsp Land O Lakes® Butter with Olive Oil & Sea Salt; divided
1 lb. asparagus, trimmed and cut into 2 to 3 inch pieces
1 red bell pepper, sliced into strips
1/2 onion, sliced
Instructions
Place the cleaned shrimp in a bowl and set aside.
Combine the honey, soy sauce, garlic and ginger in a small bowl and pour half over the shrimp (reserve the other half for later), stir the shrimp to coat, cover and refrigerate for at least 15 minutes.
Meanwhile heat a large skillet (I prefer cast iron) over medium heat and add 1 tablespoon of Land O Lakes® Butter with Olive Oil and Sea Salt. Once melted add in the asparagus, bell pepper and onion and sauté until crisp-tender and slightly charred (about 4 minutes). Remove from skillet to a plate to keep warm.
Add the remaining tablespoon of butter to the skillet and then add the shrimp (discard any used marinade). Cook shrimp about 1 minute per side, or until caramelized and cooked through. Quickly add the veggies and reserved sauce to the skillet and heat through.
Serve over hot cooked rice if desired. Enjoy!
Notes
Feel free to substitute the shrimp with chicken or steak. Just make sure to cook until safe to eat
I added some green pepper to it as well. It was quite filling. I may add some zucchini next time and some green beans. I may reduce the amount of honey to make it a little easier to fit into mu daily food budget. But overall, I really enjoyed this dish. My hubby enjoyed it as well.
Let me know what you think. I always like to read your feedback.