I love granola. Sprinkle some on Greek yogurt with fresh berries. Yum! Sometimes I just like a handful to snack on. It satisfies my craving for something sweet and crunchy.
Over the weekend I made 4 different recipes for granola. 2 of them were clear favorites. 1 was not worthy and was tossed in the trash. I know it was a waste of money and food but it was not something I would eat or be willing to share. the third one is pretty good. It is not one of my favorites but it was better than the trashed variety so I kept it.
The two winners will be posted. One in this blog and a separate post for the other.
This one is my favorite of the ones we tried. I liked #2 but it's peanut butter so I really can't eat that one. I did try it.
One thing I liked about this recipe is that it is made in the crockpot so I didn't have to turn the oven on. Although it is a crock pot recipe, it is not something you can leave unattended which I did not like. I would have loved to set it and forget for a while. It does require some work while cooking.
This is not an original recipe nor do I take any credit in its creation. I found this via Sugarfree Mom's blog. I enjoyed it so I thought I would share. Photo credit – sugarfreemom.com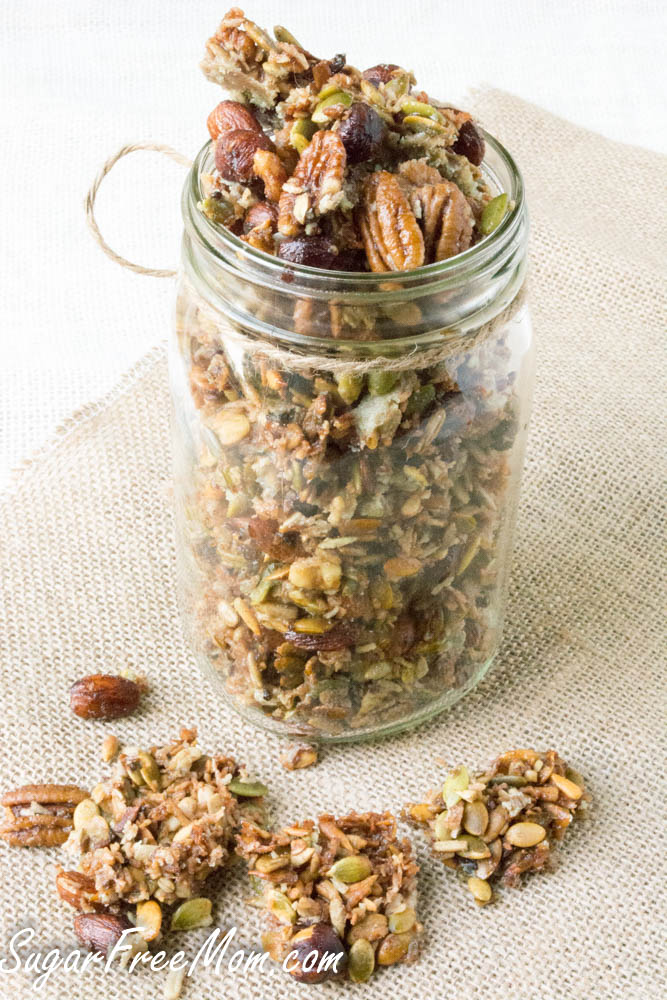 Crockpot Grain-Free Low Carb Granola by Sugarfree Mom
Total Time
2
hours
10
minutes
Ingredients
1/3

 

cup coconut oil

1

 

tsp

 

vanilla extract

1

 

tsp

 vanilla stevia

2

 

cups

 

raw almonds

 

walnuts, pecans, hazelnuts (1/2 cup each)

2

 

cups

 

raw sunflower seeds and pumpkin seeds

 

1 cup each

1

 

cup

 

unsweetened shredded coconut

1

 

tsp

 

ground cinnamon

1

 

tsp

 

salt
Instructions
Turn Crock Pot to low and add coconut oil and allow it to melt.

Once melted add vanilla extract and stevia.

Stir well before adding nuts, seeds and coconut.

Stir the granola mixture well to make sure all is coated.

Whisk Swerve, cinnamon and salt together then sprinkle over the nut and seed mixture.

Cover and cook on low 2 hours or until you can smell them and they appear browned and toasted.

Stir every 30 minutes.

Pour and spread out onto a baking pan to cool and/or refrigerate.

Keep stored in a covered container.
I added some cashew pieces and reduced the amount of the pecans and walnuts. I really like cashews butter than walnuts. I did not have vanilla stevia on hand so I used regular stevia.
Give it a try and let me know what you think.