I know it's been a while since I've posted any recipes. Have been trying several and rejecting them just as quickly. It seems to be getting harder to find delicious recipes that are low carb. Don't get me wrong, the internet is flooded with options. Just not delicious ones. At least not to me and my family.  If I wont eat it, I wont share it.
Last night was our famous "Taco Tuesday" night. Which actually translates to Mexican-style dish of some sort. Last night was enchiladas. So we tried Best Low Carb Cabbage Enchiladas.  Posted by Delish. This is not an original recipe nor do we take any credit for it's creation or photos. I stumbled upon this recipe on Facebook one day and gave it a try.
The recipe calls for a whole head of cabbage. I used 16 leaves of the small head of cabbage and it seemed to work well with the amount of filling.  I had some medium style enchilada sauce on hand so I omitted the chili powder. The Medium sauce provided a little more kick than I prefer.  The cabbage was difficult to seperate the leaves without breaking them. I took the whole head, minus a few leaves, and placed it in the boiling water for approx 1 minute to soften. This helped with leaf removal. Caution, the cabbage will be hot upon removal. Use caution in leaf removal.
I cooked the chicken in a crockpot while at work then shredded just before adding to sauce/veggie mixture. I was making 2 types of enchiladas (low carb and regular). My children will not eat cabbage in this form. They're picky like that. LOL!
We used Colby Jack cheese instead of the cheeses listed. Instead of drizzling sour cream on the top, I placed it on the side. Not everyone is a fan of sour moo cow (sour cream) in my house.
Next time I think I will cook the cabbage just a smidge longer. The stem area was still a bit hard. I may add some cheese to each roll as well as on the top. I think it needed a little more cheese. Gotta love cheese. Yum!
Best Low Carb Cabbage Enchiladas 
By Delish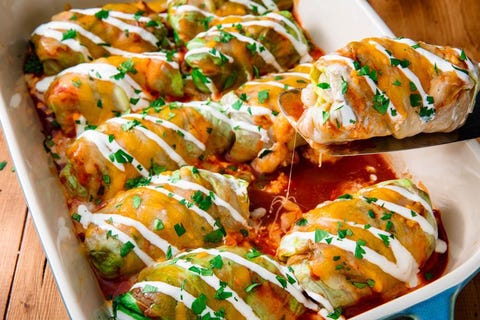 PREP TIME:
0 

HOURS 

10 

MINS
TOTAL TIME:
0 

HOURS 

40 

MINS
1 tbsp.
 extra-virgin olive oil
1 
red bell pepper, chopped
3 c.
 cooked and shredded chicken
1 1/3 c.
 red enchilada sauce, divided
2 tbsp.
 chopped cilantro, plus more for garnish
1 c.
 shredded Monterey jack
Sour cream, for drizzling
Preheat oven to 350º. In a large pot, boil 4 cups water. Using tongs, dip each cabbage leaf in water for 30 seconds and place on a paper towel-lined plate to dry.
In a large skillet over medium heat, heat oil. Add onion and bell pepper and season with salt. Cook until soft, 5 minutes, then stir in garlic, cumin, and chili powder. Add shredded chicken and 1 cup enchilada sauce and stir until saucy. Turn off heat and stir in cilantro.
Place a heaping spoon of chicken mixture into the center of each cabbage leaf. Fold the short sides of the cabbage leaf in first, then roll into a cylinder — like a burrito! Repeat until all chicken mixture is used.
Spoon remaining 1/3 cup enchilada sauce over cabbage enchiladas and sprinkle with both cheeses. Bake until melty, about 20 minutes. Garnish with sour cream and more cilantro and serve
Let me know if you try this. I'm always curious about how you like the recipes.
Enjoy!!!